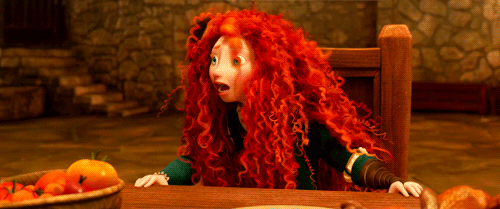 Wednesday Freya and Win and I went to Disneyland. First time for all of us. It was really fun and we definitely enjoyed the experience but one small moment stood above the rest of the day as truly magical. I guess this term is supposed to be used for all moments at Disneyland; alas this was the only moment for me that registered on that level.
We were leaving one section of the park mid-afternoon. We had a sleepy child who had not napped as much as he needed; Freya and I were both kinda hungry; our feet were both definitely sore. But we noticed off to the side the line to meet Merida from Pixar's Brave. Both of us were curious to see how accurate the Cast Member was to the character in the film, so we wandered over to see. When we arrived, the woman playing Merida was talking to the girl at the front of the line before they wandered over together to take a photo.
Even now as I recount this simple moment my eyes are tearing up because it was exquisite. Perhaps it's the fact that Merida isn't the traditional Disney Princess; perhaps it's that her story has nothing to do with Prince Charming; perhaps it's just the fact that the film was rather maligned and I like underdogs; whatever it is, there is something in Brave that I absolutely love. Wednesday confirmed this because the young lady we saw looked alive as she talked to the cast member playing Merida.
The girl talking to Merida couldn't have been older than 8 and she was ecstatic to talk to someone who was clearly a hero. She had a Brave shirt on and she was rambling on and on to Merida about who knows what (she was far out of earshot). Whatever she had to say, she was excited and her energy was obvious to anyone who caught a glance of her interactions with Merida. She didn't seem shy, she didn't seem starstruck - she seemed brave. Seeing her talk to a character that she clearly loved and admired was a beautiful experience because I too find so much to love in the themes of Brave and the character of Merida - themes of being true to myself and loving those around me and yes, believing in the magic of non-romantic love.
All of this seems worth mentioning today because Editorially is shutting down. Editorially first crossed my radar because I had sketched in a notebook the idea of version control for writing after I first started working with Git in development. I never did anything with the idea but when I saw Editorially I knew the idea was being realized better than I personally could have ever imagined.
Early in 2013 they posted that they were looking for a javascript engineer and I wrote a really long email explaining my admiration for the product and people involved and desire to be involved but also confessing my general lack of credentials for the position. The team members wisely passed on hiring me at the time and hired someone who actually had the skills they needed (that person is Garann who - along with her talents in javascript - is incredibly apt at having just the right gif for the moment). But Mandy, the CEO and co-founder, wrote me a nice response saying that if they had been hiring for a more junior position I would definitely be considered.
Fast forward to last September-ish when I saw that they were indeed looking for a junior-ish position of sorts: a javascript testing intern. So I sent yet another long email explaining my continued fondness for the product and my admiration for the team and my rather nerdy desire to learn more about Javascript testing. I will be honest, I did not think I had much chance at the job - the company had tons of really smart fans and I was just sure they had their choice of developers to fill the role so I couldn't imagine that they would choose me.
But they did.
In October I started working for Editorially part-time, solely focusing on Javascript testing. I was learning how to test Javascript, how to read/write more advanced Javascript than I'd ever encountered, and enjoying working with people who were my internet heroes (while trying to act like it was not a big deal). It was amazing.
For the past 4 months or so, I very much felt like what it must have been like for the young girl we saw at Disneyland. The team was incredible to work with and I genuinely enjoyed the time spent virtually with them in chat and face-to-face via Google hangouts. It is strange to realize that I have never actually met any of the team in person because I'm more fond of this team - as a whole and as individuals - than I have been of any other company I've worked for.
In my experience, encountering heroes always risks the chance of finding out they are kind of awful and not worth admiring. Wednesday I saw a young girl thrilled to meet one of her heroes and I could see from her smile that it was everything she hoped and more. Until that moment, I didn't really have a way to explain what it's been like to be a part of the team building Editorially. Working with this team was the rare chance to meet and spend time with people whose thoughts and work I have long respected and it was completely magical. I am sad that the job is ending, sad that the app is no longer around to help people write and collaborate, but mostly I am sad that I don't get to be around these wonderful people on a daily basis anymore.